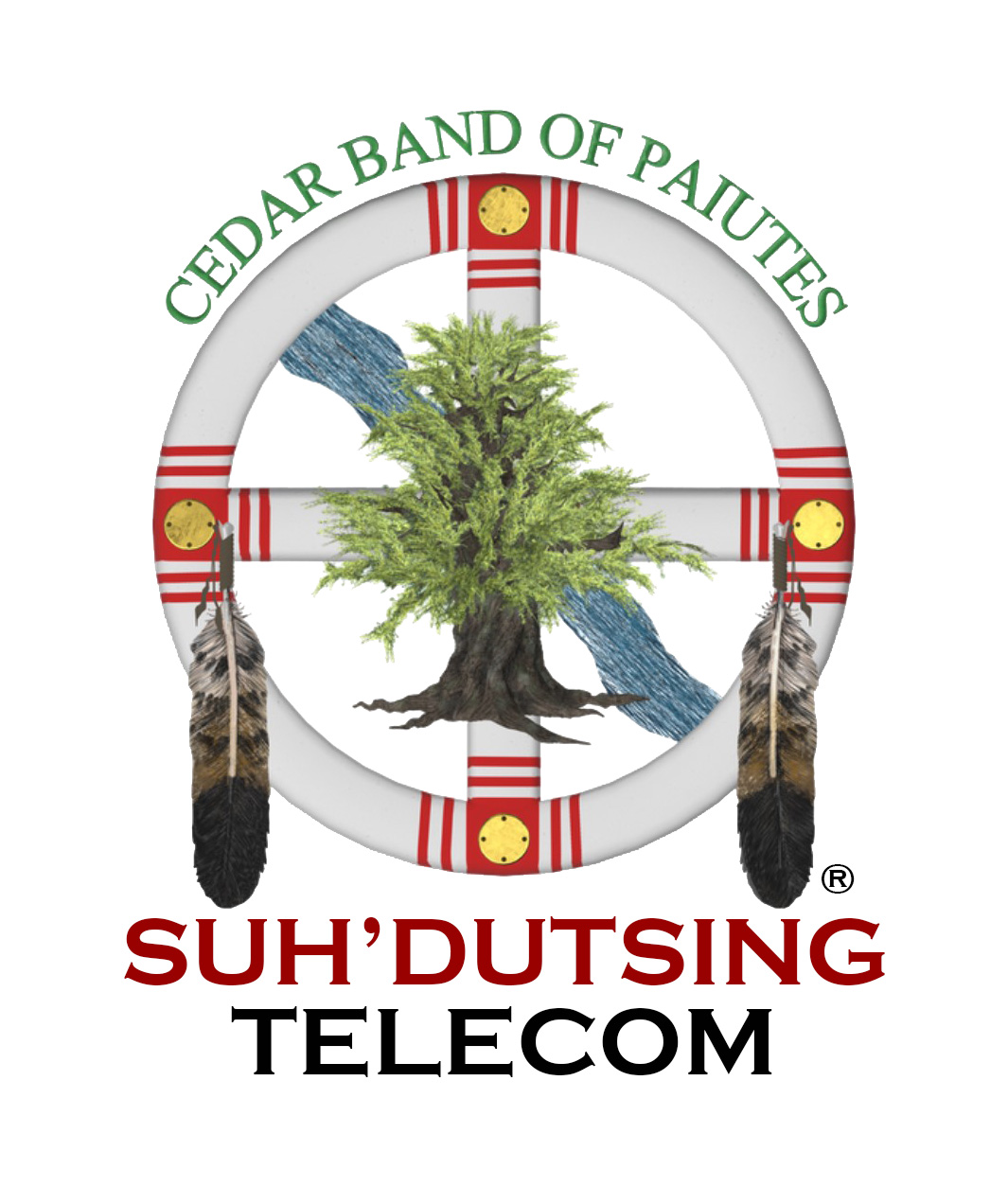 Past Contract Performance:
Click the thumbnail to download.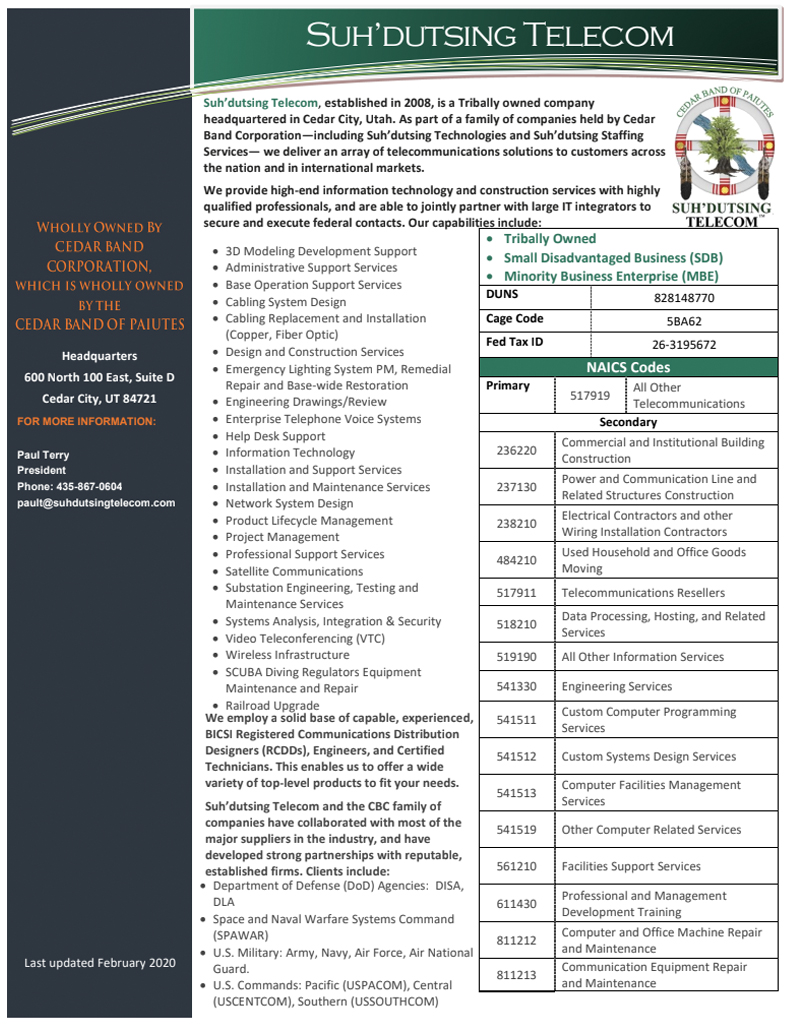 Suh'dutsing Telecom, established in 2008, is a Tribally Owned company headquartered in Cedar City, Utah. As part of a family of companies held by Cedar Band Corporation—including Suh'dutsing Technologies and Suh'dutsing Staffing Services—we deliver an array of telecommunications and information technology solutions to customers across the nation and in international markets.
We recruit capable, experienced, Engineers, and Certified Technicians. This enables us to offer a wide variety of top-level products to fit your needs.
Suh'dutsing Telecom and the CBC family of companies have collaborated with most of the major suppliers in the industry, and have developed strong partnerships with reputable, established firms. 
Suh'dutsing Telecom provides a wide variety of services to meet your IT needs. 
Enterprise Solutions 
Consulting 
Staffing 
Multimedia Solutions 
Low and High Poly 3D Modeling

 

3D Scanning & Retopology

 

2D & 3D Animation

 

Audio/Video Editing & Production

 
Unity3D Integration

 

Custom Scripting

 

UI/UX Design

 

Multi-platform Deployment

 
Technology Solutions 
Networking & Communications

 

Software Development

 

Web Services

 
Business Process Re-engineering

 

Cabling System Design

 

Data Cleansing

 

Data Migration

 

Help Desk and Data Center Support

 

Information Assurance

 

Information Technology Services

 

IT Capital Planning

 

Managed Services

 
Network System Design

 

Project Management

 

Satellite Communications

 

Software Engineering

 

Video Teleconferencing

 
Voice and Data System Installation and Maintenance

 

Wireless Infrastructure

 

Low & High Poly 3D Modeling

 

2D & 3D Animation

 

Audio/Video Editing and Production

 
3D Scanning & Retopology

 

3D Printing

 

Unity3D Integration

 

Custom Scripting

 

UI/UX Design

 
Multi-platform Deployment
STL clients include: 
Department of Defense (DoD) Agencies: DISA, DLA & 

CASCOM

Space and Naval Warfare Systems Command (SPAWAR)

 

U.S. Military: Army, Navy, Air Force, Air National Guard.

 

U.S. Commands: Pacific (USPACOM), Central (USCENTCOM), Southern (USSOUTHCOM)

 
Suh'dutsing Technologies Seaport- e Contract for Engineering, Technical, and Programmatic Services (not familiar with this contract, does this need updated or replaced?) 
Seaport-e IDIQ multiple award contracts provides an easy to use and productive means of contracting for professional support services in 7 functional areas including Engineering, Program Management, and Administrative Support. Suh'dutsing Telecom is postured to compete for Seaport-e task orders providing support to commands that include the Navy Systems Commands (NAVSEA, NAVAIR, SPAWAR, NAVFAC, and NAVSUP), the Office of Naval Research, the United States Marine Corp, and the Defense Threat Reduction Agency (DTRA). Suh'dutsing Technologies with their team of experience partners are able to provide a full range of services to all Seaport-e functional areas. 
Contract Number: N00178-12-D-7061 
Applicable Zones: 1, 2, 3, 4, and 6 
Quality Assurance 
Seaport-e Task Orders
Suh'dutsing Telecom Seaport-e Teammates: 
Suh'dutsing Telecom is a Tribally-owned Small business. What follows is a list of the programs STL participates in: 
Small Disadvantaged Businesses (SDBs)

 are at least 51% owned and controlled by a socially and economically disadvantaged individual or individuals. African Americans, Hispanic Americans, Asian Pacific Americans, Subcontinent Asian Americans, and Native Americans are presumed to qualify.

 

The Department of Defense's (DoD) Indian Incentive Program (IIP)

 is a Congressionally sponsored program that provides a 5% rebate back to the prime contractor on the total amount subcontracted to an Indian-Owned Economic Enterprise or Indian Organization. Through the generation of subcontracts to the above mentioned entities, the IIP fulfills its purpose as an economic multiplier for Native American communities.

 

U.S. General Services Administration's IT Schedule 70

, an Indefinite Delivery Indefinite Quantity (IDIQ) Multiple Award Schedule (MAS) contract, offering a comprehensive array of IT products, services, and solutions. IT Schedule 70 is the largest procurement vehicle and the most widely used acquisition offering in the federal government.

 
For a full list of contract vehicles for STL and other Cedar Band Corporation companies, click here. 
For a current list of NAICS codes Suh'dutsing Telecom is certified to perform under, click here.



our legacy
cedar band of paiutes
Like our ancestors we are hunters and gatherers, but in a different sense. We hunt for opportunities to help us rebuild and regain our culture, sovereignty, autonomy, and provide for our people. Through our holding company, Cedar Band Corporation, a Federally Chartered Corporation owned by the Cedar Band of Paiutes. We own and operate nine businesses in the fields of technology and telecommunications solutions, contracting services, aerospace engineering, mortgage services, commercial trading post, and now the wine industry with CBC BevCo.

600 N 100 E, Cedar City, UT 84721 | (435) 867-0604